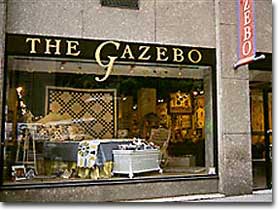 For 53 years The Gazebo of New York has designed and produced Unique hand-made Baby, Adult Quilts, Wall hangings, Quillows, Hawaiian Quilts, Pillows, Custom Design, including Memory Quilts.

At The Gazebo of New York the love of quilting and custom design allowed us to develop and grow the business over the years. Our staff is trained to be meticulous in their needle arts and devoted to fine craftsmanship. We Offer Baby, Lap, Twin, Queen, and King Size Quilts; and we would be happy to custom-make the Quilt of your choosing in whatever size and colors your heart desires. We can also personalize any quilt with names dates or the saying of your choice.

Our Quilts are not only hand quilted, they also are hand-appliquéd as well as hand-embroidered.
We use 7-8 quilting stitches per inch as compared to 2-3 stitches used on cheap imports, and ours are machine washable.

Yes, we are the internationally famous boutique formerly located in the Big Apple on Madison Avenue and 57th St!

Now we are exclusively online--only an email away from serving you.
If the telephone is more convenient, or you're a new customer and wish to ask a question or place an order, please call me directly.

I'd love to hear from you.
Cheers, Robert

775 229 2230
[email protected]

PayPal, Master Card, Visa, Discover, American Express accepted.